Here are the details of India's Rs. 1300 crore RuPay incentive scheme
Last week, the Union Cabinet approved an incentive scheme to promote RuPay Debit Cards and low-value BHIM-UPI transactions. Under the scheme, the government will incentivize banks by paying a percentage of the value of transactions. The estimated financial outlay for a period of one year is Rs. 1,300 crores.
The government notification in this regard has now revealed further details.
Incentive Rates for the Scheme
The government says that it has taken the step to further boost digital transactions in the country. It will incentivize the acquiring Banks by way of paying a percentage of the value of RuPay Debit cards transactions (P2M) and low-value BIM-UPI transactions (up to Rs. 2,000) (P2M). The scheme will be retrospectively applicable from April 1st, 2021.
The government will incentivize banks according to the following rates.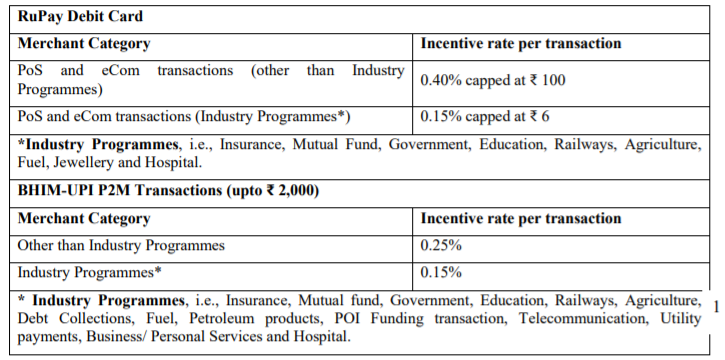 However, banks will have to show at least 10% year-on-year growth rate in the number of RuPay Debit card transactions (overall, not restricted to P2M). They will also have to show 50% year-on-year growth in the number of BHIM-UPI transactions. They will need to show these improvements at the end of the last quarter of the scheme.
Active Promotion of RuPay
India has long been promoting its indigenous RuPay card technology, as well as the UPI system. Not very happy with it, Visa has recently complained to the U.S. government against India's favoritism for RuPay.
First launched in 2012, Rupay had an initial thrust from the government's Jan Dhan Yojana. All accounts linked with the project issued RuPay cards to the beneficiaries. However, it won't be wrong to suggest that RuPay also has its own advantage. For one, it charges lower commissions for transactions than its rivals, lowering the financial burden on banks.
Besides, it also complies with the RBI's data localization demands. The RBI has already imposed restrictions on Mastercard for violation data localization rules.
You can read the full notification here.
---
Do subscribe to our Telegram group for more resources and discussions on tech-law & policy. To receive weekly updates, don't forget to subscribe to our Newsletter.