MHA asks States to withdraw cases registered under Section 66A
The Ministry of Home Affairs (MHA) has asked all states to withdraw all cases registered under Section 66A of the Information Technology Act, 2000. It has also asked them not to register fresh cases under the now struck down Section and to sensitise the police department/ local police authorities for strict compliance with the Supreme Court judgment in Shreya Singhal vs. Union of India, decided on 24.03.2015.
Although the Supreme Court had struck down Section 66A in the Shrey a Singhal judgment, police authorities across states were invoking the controversial section to book citizens.
'Repealed' Section 66A of the IT Act, 2000
The letter says that it is requested "to direct all the police stations not to register cases under the repealed Section 66A of the Information Technology Act, 2000.."
However, the Central Government is yet to repeal Section 66A, which was 'struck down' by the Supreme Court. It must be noted that the legislature must pass a repealing act to repeal any law, which it failed to do even after 6 years of the judgment.
Since it didn't repeal the Section, the Section can be found in bare acts of the Information Technology Act, 2000, which the police often use to invoke Sections once a criminal offense is reported.
Last week, the Supreme Court had issued notice to the Central Government on the issue when an application filed before the court submitted that as many as 745 cases were being tried across the country under Section 66A. It also highlighted cases where trial court judges continued to hear cases filed under this Section, even after being informed of its invalidity/ unconstitutionality.
A copy of the letter: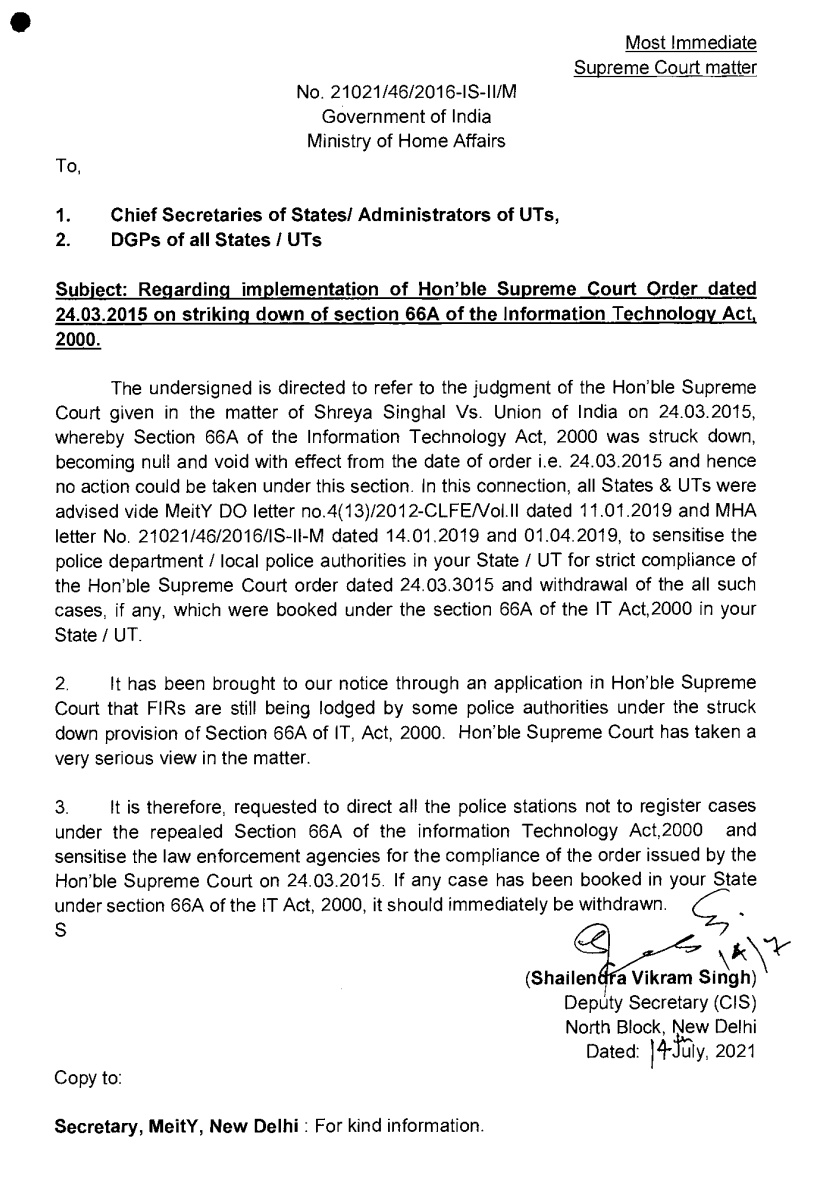 ---
Do subscribe to our Telegram channel for more resources and discussions on tech-law. To receive weekly updates, don't forget to subscribe to our Newsletter.