Law enforcement to use Digital Forensic Kiosk at Airports, Police Stations
The government has informed the Lok Sabha that it has developed a Digital Forensic Kiosk (DFK) for quick preview of evidential artefacts. The Centre for Development of Advanced Computing (C-DAC) has developed the kiosk.
The Minister of Electronics & Information Technology revealed the information in response to an unstarred question on 01.12.2021.
What's a DFK? Who will use it?
A DFK is a stand-alone forensic hardware platform for quick preview of evidential artefacts present in electronic devices such as smartphones, SIM cards, memory cards, hard disks, USB storage devices, etc.
According to the reply, law enforcement agencies like the National Investigation Agency (NIA), Intelligence Bureau (IB), Customs, Revenue Intelligence, State Police Force can use the DFK. These agencies can use DFK at airports, police stations and other places where they need to search for digital artefacts in seized devices.
Using DFK, these agencies can conduct a primary examination of the device using forensic imaging. As such, they can ascertain if is any suspected piece of evidence is available in a device. If there is no evidence available on the device, it can help avoid a seizure of the device.
How does it work?
According to C-DAC, DFK is a self-service platform that agencies can use as a first responder device for cybercrime investigation. It is simply and easily operable by non-technical users. C-DAC has specially designed the device for preview, hashing, and extracting data from mobile phones, storage media and SIM cards.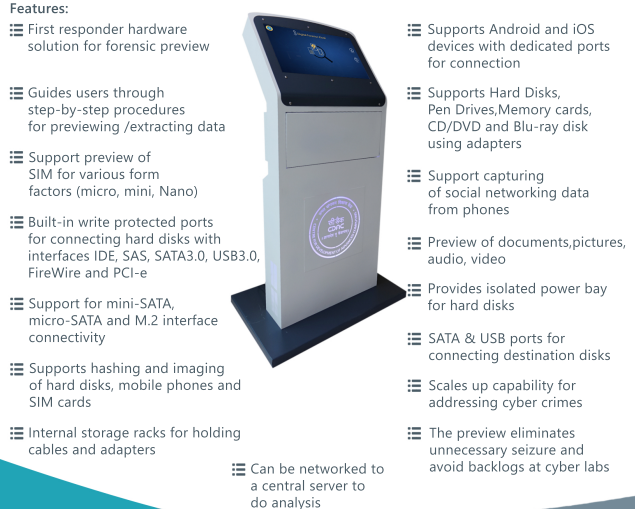 DFK also has dedicated ports for connecting mobile phones and supports both Android and iOS devices. In case DFK helps find data relevant to a crime, the device containing such data can be acquired and handed over to cyber labs for further investigation.
Here's a copy of the reply.
---
Do subscribe to our Telegram group for more resources and discussions on tech-law & policy. To receive weekly updates, don't forget to subscribe to our Newsletter.