Acer confirms "isolated attack" on after-sales services systems in India
Taiwanese computer manufacturer Acer has confirmed a cyber attack on its after-sales services in India. The company called it "an isolated attack".
Speaking to BleepingComputer, an Acer Corporate Communications spokesperson said they are notifying all potentially affected customers in India. They have also reported to local law enforcement and the Indian Computer Emergency Response Team.
He said, "Upon detection, we immediately initiated our security protocols and conducted a full scan of our systems. We are notifying all potentially affected customers in India. The incident has been reported to the law enforcement and the Indian Computer Emergency Response Team, and has no material impact to our operations and business continuity."
Details of the attack
Acer is yet to disclose the attack on its website. It also didn't provide details regarding the attack or the attacker's identity to the publication. However, a threat actor has already claimed the attack on a popular hacker forum. They claim they have stolen more than 60GB of files and databases from Acer's servers.
The stolen data includes client, corporate, and financial data and login details of the company's retailers and distributors in India. The hackers have posted a video showing the stolen files and databases, the records of 10,000 customers, and stolen credentials for 3,000 retailers and distributors.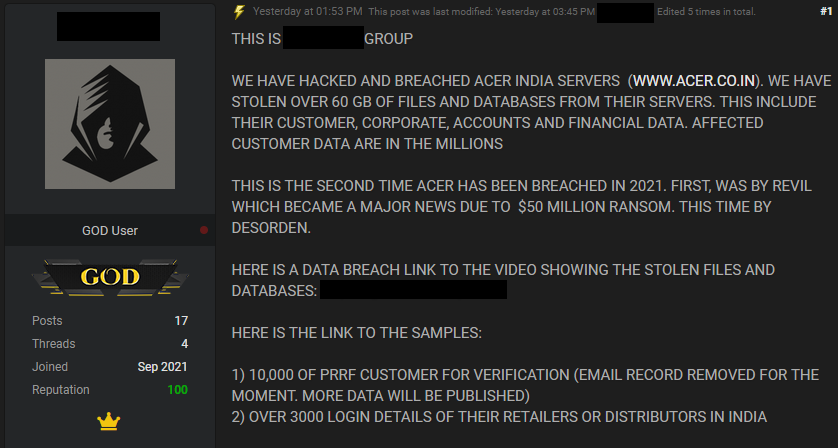 Cyber Attacks are increasing in India
The Ministry of Home Affairs had informed the parliament that India faced 12 lakh cybersecurity incidents overall in 2020, with over 2.9 lakh incidents related to digital banking. According to a Sophos report, 52% of Indian companies endured cyber attacks in the last 12 months. Another report by Check Point Research says India is the most ransomware-affected nation in 2021. Organizations on average face 213 attacks every week
These cybersecurity incidents do not just happen and stay in isolation. The data leaked in these incidents further helps attackers cheat people. And people are suffering losses. A study has suggested that 59% Indians suffered a cybercrime in the last 12 months of study. People have lost Rs. 4 crores in the last months in Chandigarh alone.
---
Do subscribe to our Telegram group for more resources and discussions on tech-law. To receive weekly updates, don't forget to subscribe to our Newsletter.