We will help you file a complaint against fraud you may suffer with during COVID
Cutting across everything else first: If you have suffered a crime/ fraud while seeking help in COVID-19, we will help you file a complaint, free of cost.
As India witnesses a rise in case of COVID-19, there are some miscreants using this grim situation for their financial gains. Because of such huge number of infections, and because of institutional efficiencies, it has become very difficult for common people to procure essential medicines, oxygen cylinders, or even undergo tests. Most of the supplies are either out of stock or are being sold in the black market at a much higher price.
Amidst such issues, scrupulous opportunists are duping people. From supply of Remdisivir to delivery of oxygen, miscreants have left no stone unturned to scam common people. The common chain in all such frauds is the same: the miscreants ask for some advance money in return to deliver medical supplies. Such supplies include Remdisivir vials, oxygen cylinders, and even promises to conduct RT-PCR Tests. The person in need quickly advances the demanded payment, but does not receive any help. His numbers are blocked.
Kind of Ongoing Frauds
In one such instance, a victim had to pay Rs 2400 for doorstep collection of samples for COVID-testing. The miscreant even took the samples and switched off their phones. The report was never delivered. Most common frauds are the cases for fulfilling the needs for Remdesivir vials. The miscreants pose as agents of pharmaceuticals companies (like Cipla) and demand for advance payment. Soon after the payment, the payee cannot contact the agent anymore and lose his money. Similar is the story of fake oxygen suppliers.
Many Twitter users are sharing such instances and alerting others to not fall into the trap.
To clarify on the issue and alert others, CIPLA even had to publish a precautionary notice to people to not fall into such traps.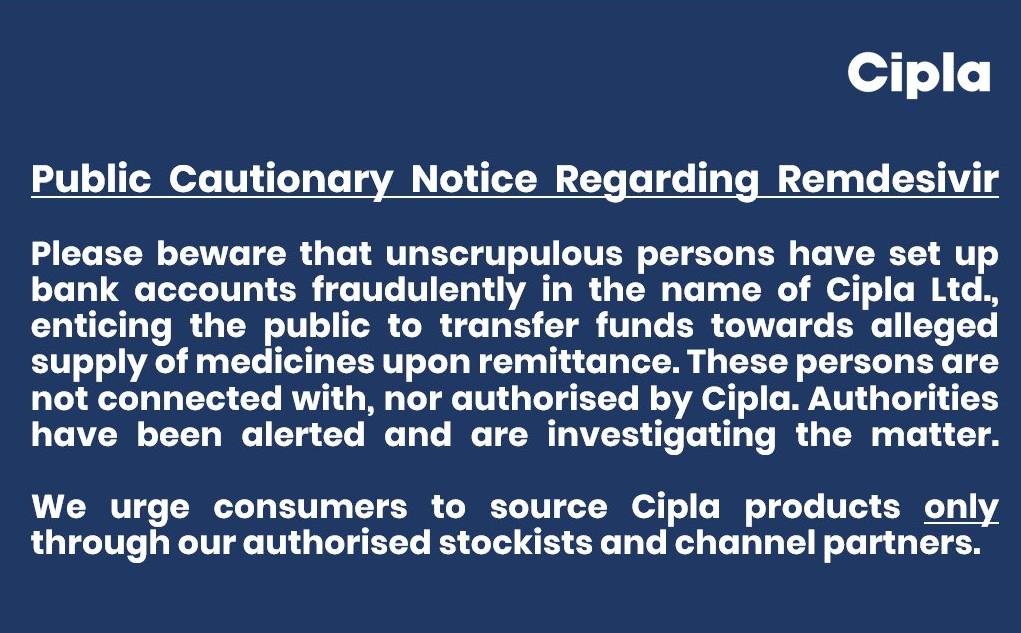 The pharmaceutical company has also published a list of official distributors of Remdesivir. Readers can see the list here.
Where to seek help and file complaints?
Most of these instances include online payment, where the fraudsters impersonate genuine service providers and then dupe people. Since it falls within the purview of cyber crimes, here's what you need to do:
1. As soon as you sense that you have been cheated, gather all evidence such as call records, call recordings (if you have), mobile numbers of the fraud, UPI IDs, Bank account numbers, transaction IDs and proper timelines (when you called the fraud, when you processed the transactions).
2. Call your banks/ wallet's customer care and inform about the fraudulent transaction and share the details that you have gathered. Try to do this as soon as possible, ideally within 24 hours. Ask them to block the transaction/ fraudulent bank account so that your money is not withdrawn from the account.
3. If you are from Delhi, dial 155260. Register your complaint and share the information you have gathered. This should also be done ideally within 24 hours.
4. Write a complaint elaborating the crime (as mentioned below), attach print-outs of the information you have gathered and proceed to the nearest police station. You can also visit www.cybercrime.gov.in and register your complaint.
Note: Even if the police refuse to lodge a complaint, you must follow pointers 1 and 2.
If you are having any difficulty, use the WhatsApp button on our website. We will help you file a complaint against any fraud: free of any cost.
Elaborating the Crime
If you wish to do it yourself, this should be helpful. It really depends on the nature of the crime. However, as learnt from the kinds of crimes ongoing, it prima facie seems to be a criminal breach of trust, cheating, identity theft and cheating with impersonation, as well as forgery. These offences are enshrined in the Indian Penal Code and the Information Technology Act, 2000. Therefore, you should ideally elaborate keeping in mind the following questions:
1. Explain the particulars of the incident. An explanation should follow. Please be mindful of the point regarding information gathering (as discussed above).
2. Who did the criminal pretend to be or what organisation did the pretend to represent? e.g. The criminal said that he is the sale executive from CIPLA.
3. What service did you pay for or on what promise did you make the payment for?
4. How did you learn that you have been cheated?
However, as said earlier, feel free to reach out to us. We would be happy to assist you, even in the case police refuse to accept your complaint.
---
Do subscribe to our Telegram channelfor more resources and discussions on technology law and news. To receive weekly updates, and a massive monthly roundup, don't forget to subscribe to our Newsletter.
You can also follow us onInstagram, Facebook, LinkedIn, and Twitter for frequent updates and news flashes about #technologylaw.