Was my data compromised in the Facebook hack? We can find out!
Last week, it was reported that the data of 533mn Facebook users is compromised. The leaked data includes names, phone numbers, email addresses, account IDs, and bios are among the details. Cybercriminals launch other scams using this leaked personal data. Stolen documents are routinely circulated online by cybercriminals and are used for fraud. Hackers may also try to break into corporations' networks to install ransomware or extort them.
It is a legal obligation of a company to warn customers of any data breach incident. But the consumers are left in dark by ambiguous public statements and announcements. In such situations, security analysts and researchers come to the rescue of such users. They maintain meticulous records of previous data points that helps check which users are affected by a hack.
Was your data also compromised in this breach? How can you verify?
You can easily go to HaveIBeenPwned.com and enter your email address to know whether you are a victim of any data breach or not. This is a database maintained by security analyst Troy Hunt. The site lets anyone enter their email address and cross-references it with more than 10 billion accounts compromised in past breaches to determine whether they've been "pwned," or compromised.
Passwords are often revealed as part of data breaches. Hunt's website also has a password checker that shows whether a user's password has ever been compromised by hackers.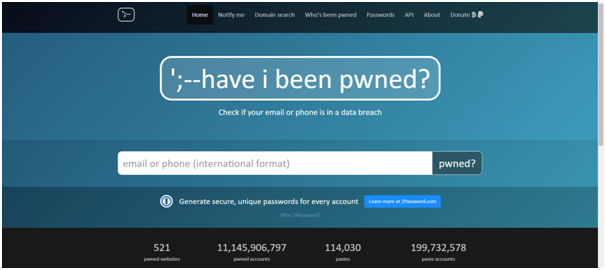 To check: Open HaveIBeenPwned.com<Enter E-mail Address<Click on 'Pwned?'
What Should I do if my data is compromised?
If you discover that your personal information has been compromised, you should change your password with a strong password which doesn't include any of the leaked data as its part, and use two factor authentication for logins.
Lastly, as it is said that prevention is better than cure, keep an eye out for any unusual behaviour on any of your accounts. If you notice something, report it to the local police and CERT-In.
---
Do subscribe to our Telegram channel for more resources and discussions on technology law and news. To receive weekly updates, and a massive monthly roundup, don't forget to subscribe to our Newsletter.
You can also follow us on Instagram, Facebook, LinkedIn, and Twitter for frequent updates and news flashes about #technologylaw.