Ousted Government of Myanmar recognizes Tether as Official Currency
The National Unity Government (NUG) of Mynamar has recognized Tether as an official currency for local use. Using the stablecoin, NUG will raise funds for a campaign to topple the military regime, Bloomberg reported.
The NUG is a group of leaders from the ousted civilian government led by the ousted leader and former Prime Minister Aung San Suu Kyi. It declared war against the military regime in September, which was followed by battles between the junta and local resistance groups.
Use of Tether
The NUG Representative Office in Czech Republic announced the move in a Facebook post (translated).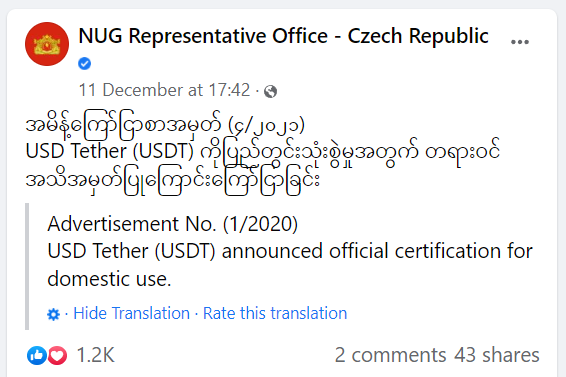 NUG Finance Minister Tin Tun Naing also said in a Facebook post that the NUG officially accepts Tether for "domestic use to make it easy and speed up the current trade, services, and payment systems."
It is pertinent to note that the Central Bank of Myanmar declared all digital currencies illegal in May last year. However, NUG has already raised $9.5 million in the first 24 hours. It is selling "Spring Revolution Special Treasury Bonds", structured like a direct lending instrument, to the Burmese diaspora across the globe.
The NUG has also said that it will soon sell these bonds within Myanmar too. On the other hand, the military regime says the practice violates counterterrorism laws.
In these worrying circumstances, trading Tether can allow more privacy to donors.
Recommended Reading: What is a stablecoin? Here's all you need to know.
---
Do subscribe to our Telegram group for more resources and discussions on tech-law & policy. To receive weekly updates, don't forget to subscribe to our Newsletter.