How to use Google Scholar for your research?
As the name itself suggests, Google Scholar is a free search engine tailored for research. This type of search engine indexes the full text or metadata (data that provides information about other data) of academic publications. The results are spread across various arrangements of the publishing formats and disciplines. Google Scholar facilitates easy search for academic literature and research. From one place, we have the facility to search across many disciplines and sources of work. With the help of Google Scholar, we can find relevant work throughout the world of scholarly research. So how to to use Google scholar?
Google Scholar can be used to access the following kinds of sources:  
Journals 
Conference papers 
Academic books 
Pre-prints 
Thesis and dissertations 
Abstracts 
Technical reports 
A little History first 
Google Scholar was created in 2004. It evolved into a massive repository for academic literature, allowing users to access publications, cross-reference their sources, and stay up-to-date with upcoming research.  
In 2006, it received a major upgrade in its features. This included a citation importing feature that supported most bibliography management tools. Users could, now, import references directly from Google Scholar into their reference managers.  
In 2011, Google removed 'Scholar' from its 'easy access' toolbar, which hosted shortcuts to all its other services. This reduced ease of accessibility as well as the discoverability of this service for new users.
In 2012, a major enhancement was implemented wherein individual scholars could create personal 'scholar citations' profiles.  
In 2013, Google allowed its users to save their search results in the 'Google Scholar Library', which is a personal collection where the user can search separately and organize the results by tags.  
Features of Google Scholar 
Google Scholar allows its users to search for digital or physical copies of publications. It lists full-text journal articles, technical reports, preprints, and webpages that are considered to be 'scholarly'. Using the service, researchers can explore related works, citations, authors, and publications. Besides, it can also help users keep up with recent developments in any area of research. Lastly, researchers can check who's citing their publications, and they can create a public author profile. 
Advantages of Google Scholar 
Google Scholar only provides relevant information:  It searches scholarly works of many types and indexes materials from academic journals, books and conference proceedings. In many fields, peer-reviewed proceedings are highly valued. Yet, many other research database services only index journals. This makes Google Scholar a superior tool for many of its users interested in diverse types of publication and citation counts.
Citation analysis is automated:  Citations are updated without a break and, with Google indexing even the rarest of the academic websites and works of academicians and researchers, is easy to track. It also provides the option of email notifications to scholars whenever there is a new citation of their work. There is no bias or hand-picking or otherwise prejudicial influence in determining the order in which the papers are listed. 
Profiles are created by scholars: The citations are automated but the list of author publications under Google Scholar profiles are chosen by the profile owners. Therefore, scholars interested in ensuring their contributions are comprehensively represented can approach the service directly. 
A few Disadvantages too
Google scholar is too inclusive: The search engine adds any piece of writing which can be seen as an academic publication, into its database. Moreover, as it is accessible by anyone who has access, for instance, to a university's web domain they can wilfully make modifications to the information at any moment 
Recently, it had included publications hosted on academia.edu. This domain does not have any quality control as everybody has the freedom to upload anything of their choice for dissemination.
Citations are automated: There is a computer code that automates citations and segregates relevant information. This eventually means there is no rigorous quality control, which is why publications from well-known journals are also counted as contributions.
Profiles are curated by scholars: As publications and co-authors listed under a scholar's profile can be added manually with little oversight, users may attempt to rig search results and the visibility of their work. If the system asks a scholar to update the system automatically, then yes, who would even think of refusing and they will definitely do so but there come consequences that are harmful. 
Tips to find relevant content
By using the 'cited by' button: Let's assume we were not able to find a relevant source from past 10 years. By simply clicking the 'cited by' button we will find an older source that is as similar as the source we were searching for.  

Finding resources from a certain time frame:  Google Scholar provides us with an option to conduct our search on the basis of a given time frame. We can simply access this by clicking on the left-hand sidebar and selecting 'custom range' option and narrowing down our search for say 10 years.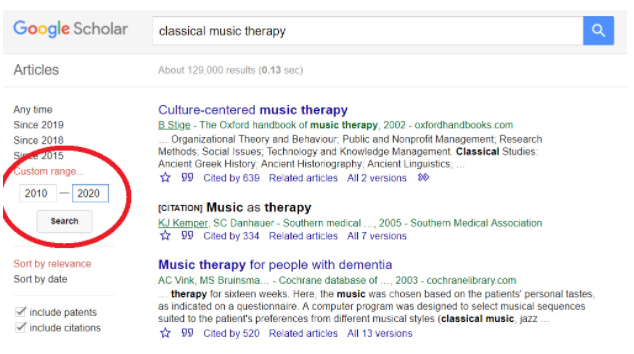 Let's say the research person wants to make sure the newer text you search for is still as relevant as possible. If we go on to click on 'search within citing articles', we can get a new search to find all articles that discuss the keywords the person is interested in and can even cite the previous text.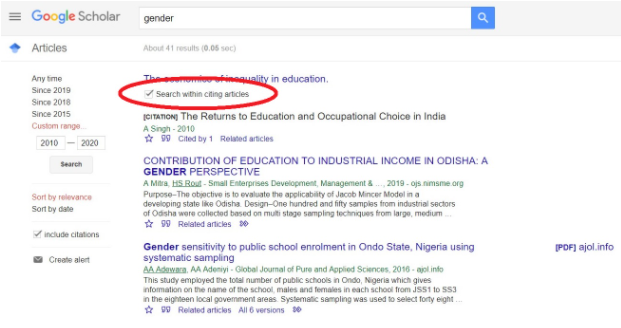 Generating citations: You can generate citations. Here's how.  
Find the source you want to cite on google scholar.
Clicking the ' " ' symbol beneath the source 
Copy the text for the citation style you prefer using 

We can also follow the Author Links to find the scholar's latest articles. By doing so we would get a list of all the articles the Author has published so far and that too in the order of publications.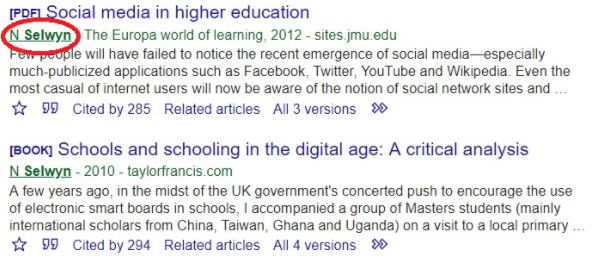 We also have the facility to bookmark important articles for future reference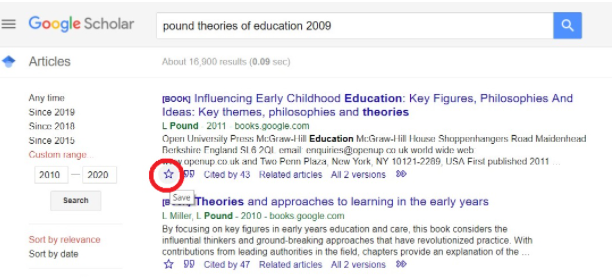 Lastly, Google Scholar can be used to search not only articles and journals but it can also be used for searching books with the help of Google Books app. It is showcased as 'book' and by clicking on it, it redirects to the Google Books site where the reader can read the book.
---
Do subscribe to our Telegram channel for more resources and discussions on tech-law. To receive weekly updates, don't forget to subscribe to our Newsletter.