How to file a cybercrime complaint online? Here's a step-by-step guide.
With COVID-19, the pace at which India is using the internet to carry out everyday tasks has massively accelerated. From grocery shopping to online conversations, we have witnessed a defining moment in our lives. While we all know at least something about filing a police complaint in a police station, very few are aware of filing an online complaint against a cybercrime. 
Indian citizens/ victims of cybercrime where the accused is an Indian citizen can file a complaint using the government's online portal. In this article, we'll break down the process step-by-step.  
Before you go ahead and file a complaint, make sure you have the requisite evidence to secure the ends of justice. If you have received any sort of multimedia content, make sure you preserve it along with the proof of receiving the same. Since it is incredibly easy to delete a message or even a post after people view it, make sure you take screenshots or recordings of the same. Do not delete anything. Preserve the URL you have accessed, additionally take a screenshot of the website, preferably with the date and time visible. This is to make sure that in case the website's URL or display is changed later on, you will still have proof of how it was when you visited it.
You can read this guide to know more about preserving evidence. 
Accessing the Cyber Crime Reporting Portal 
Step A: Go to https://www.cybercrime.gov.in/ website.
Step B: The webpage will look like this: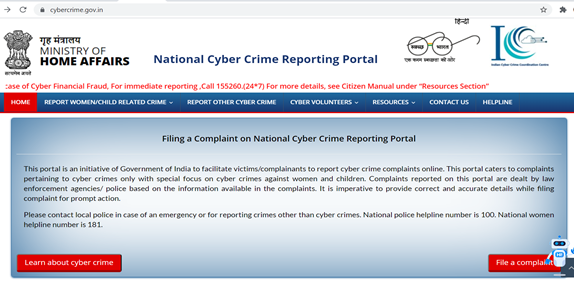 Click on 'File a Complaint' to proceed with your complaint.  
Step C: After reading the FAQs and the other terms, click on 'I Accept'.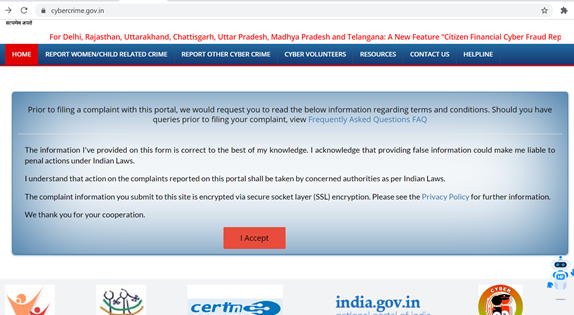 Step D: Depending on the nature of the offense, you can choose if your complaint is related to women/children or any other cybercrime. In case it is a crime related to women/ children there is also an option to report the crime anonymously. For other cybercrimes, you can use the option to report and track.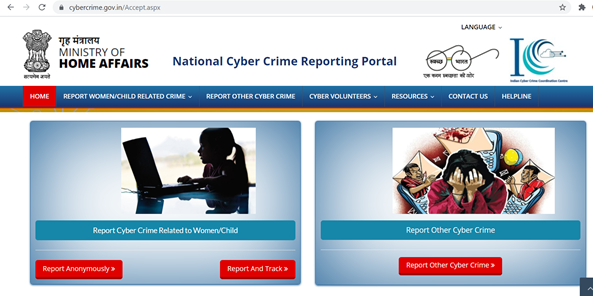 Reporting Cyber Crime Related to Women/ Child: Reporting a Complaint Anonymously 
Step 1: There is a three-step process to file your complaint. Columns with an asterisk "*" are mandatory to be filled. First, you must enter the details of the Incident (approximate date and time, place, and additional details in 200- 1500 words). There are four categories of a complaint, namely: 
Child Pornography (CP) Child Sexual Abuse Material (CSAM)  
Rape/Gang Rape (RGR)-Sexually Abusive Content 
Publishing or Transmitting Sexually Obscene material in electronic form  
Publishing or transmitting of material containing sexually explicit act in electronic form 
Note: Sexually explicit act consists of any pictorial depiction of actual or simulated sexual acts. Obscene material will consist of anything which excites lust in a person.
Depending on the nature of your complaint, choose either one of the options. 
Step 2: Next, state the approximate date & time of the incident or the receiving/viewing of the content. In case there is a delay in reporting, the reason for the same has to be stated. However, this column is not mandatory to be filled. The name of the State/UT where the incident has occurred along with the District and applicable Police Station has to be filled in. The portal gives multiple options for the digital medium on which the incident occurred. For example: through Email/ Facebook/ Instagram / Snapchat etc. If none of the options are applicable, you can choose 'other'.
Once you choose the medium, you'll have to upload supporting evidence. This could be anything ranging from an image or video or even a pdf. Details about the webpage address / Instagram profile ID/ YouTube video link etc. as applicable will have to be stated as well. Additional details such as the time at which the media was uploaded might also be required. Lastly, any other details of the incident have to be filled in.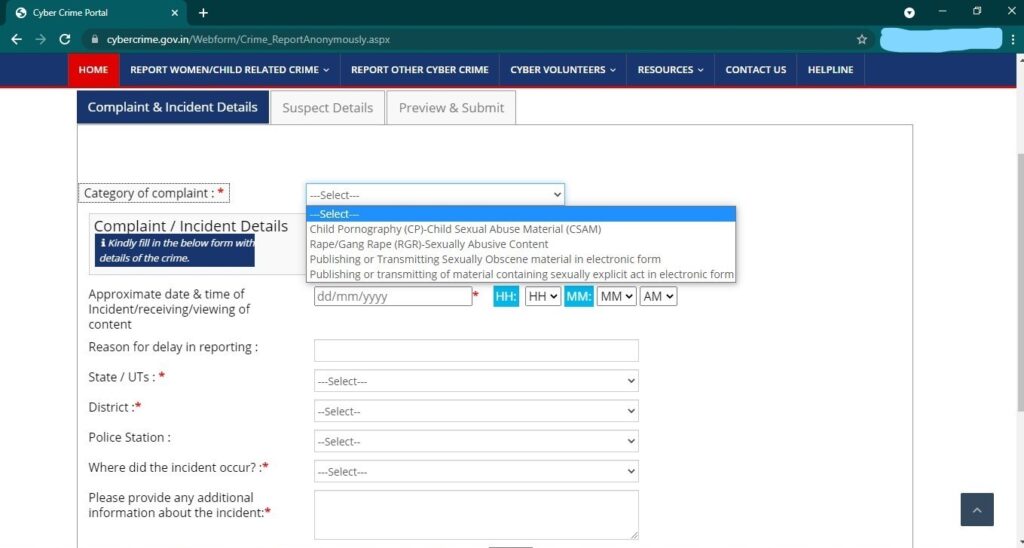 Step 3: Once, the complaint and incident details are filled in, click on 'save & next'. Fill in the Suspect details, if you happen to know the suspect of the crime. However, this is also not mandatory. But if you do know the suspect, information such as their name and ID can help in the investigation.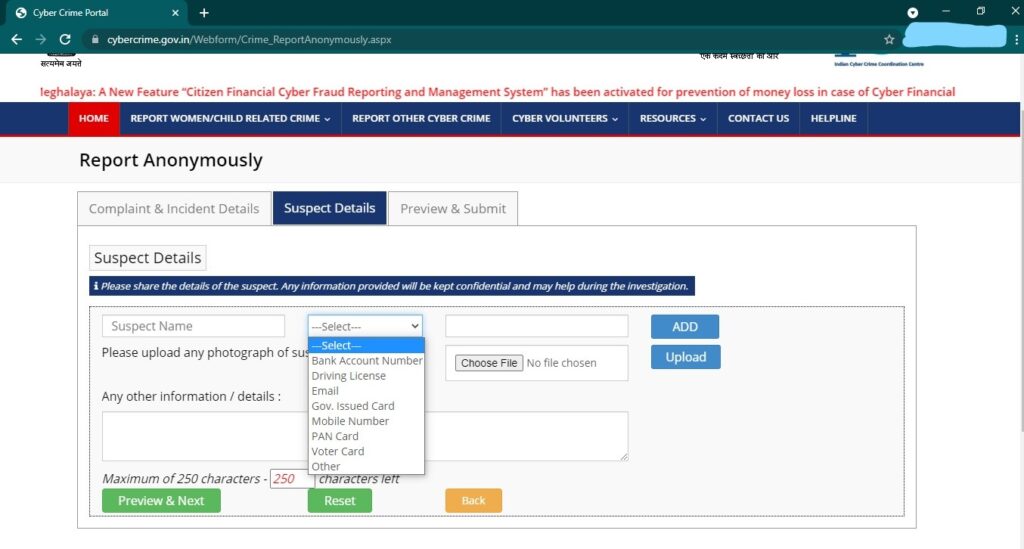 Step 4: Click on 'preview & next'. If there is any information you wish to change, you can click on 'back' and edit the details. If not, answer the queries, select 'I agree', and finally click on 'Confirm and submit'.
You have now successfully filed a complaint with the cyber cell of the applicable State/UT. You can also generate a pdf of the complaint for further reference such as tracking the complaint!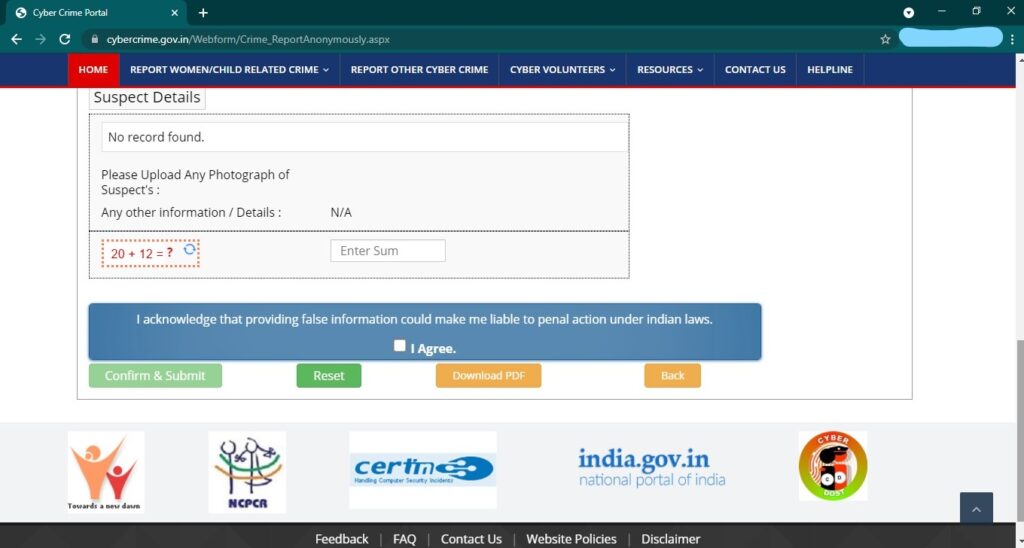 Reporting Cyber Crime Related to Women/ Child: Reporting and Tracking a Complaint
Step 1: Click on report and track as shown in Step D of this article. In case you do not have an existing login Id for the portal, click on the new user link and create one.  
Step 2: You'll have to enter your login ID, preferably email ID followed by the state you are in, your mobile number, and click on send OTP. Once you receive the OTP on your number, enter it and solve a simple arithmetic sum (captcha). You can now click on submit and login to file your complaint!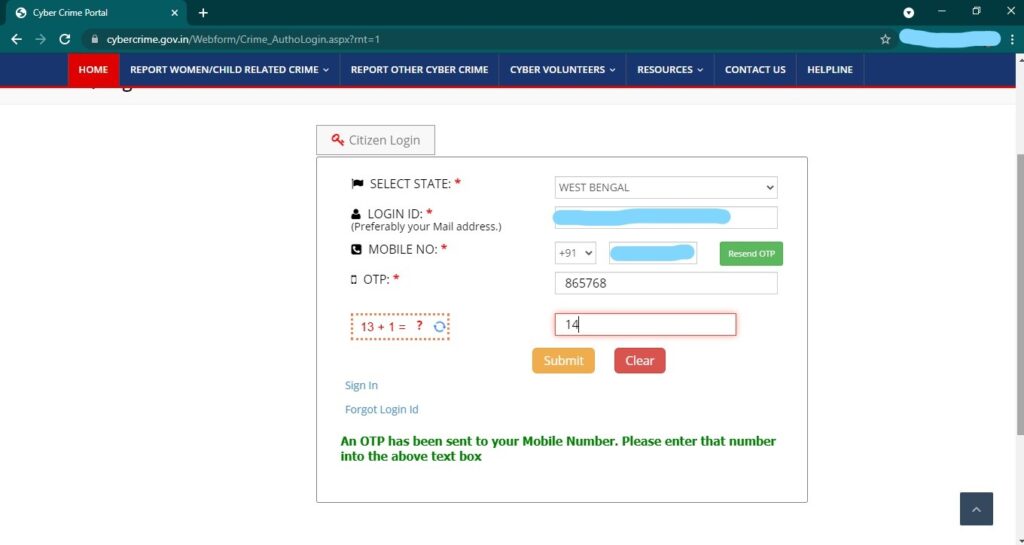 Step 3: After you log in, a new page will appear asking for profile details. Provide your personal details such as name, email id, phone number, date of birth, address, etc. as shown below: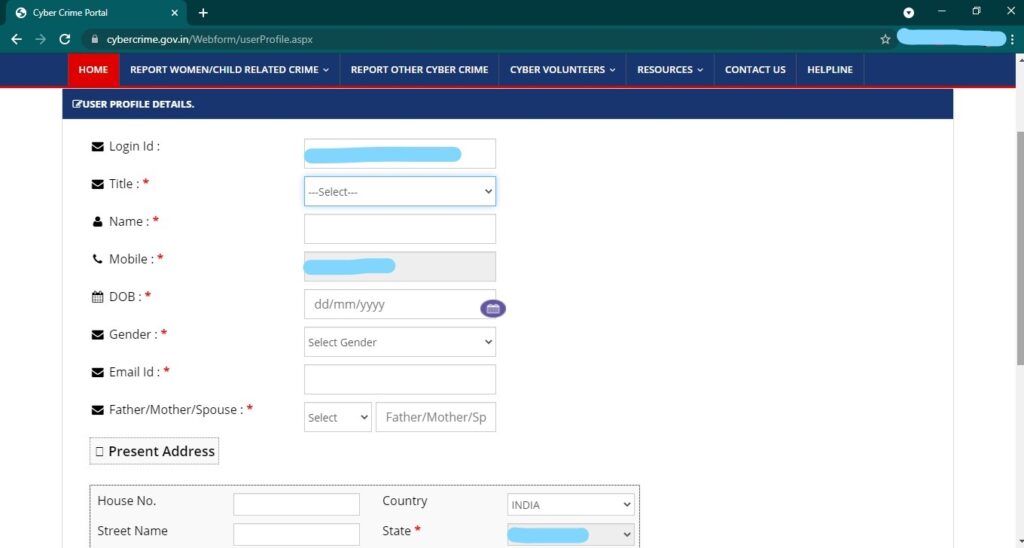 Step 4: Enter the required information as explained in the earlier screenshots (reporting anonymously) of this article. You can also furnish details such as the address of the suspect. Once you have filled in the suspect details (which are not mandatory), click on 'save & next'. Next. the 'complainant' tab will open up. 
Step 5: In the complainant details section, you have to enter your details. You should mention your father/ mother/ spouse name as well your/ victim's national ID. Similarly, fill in your address.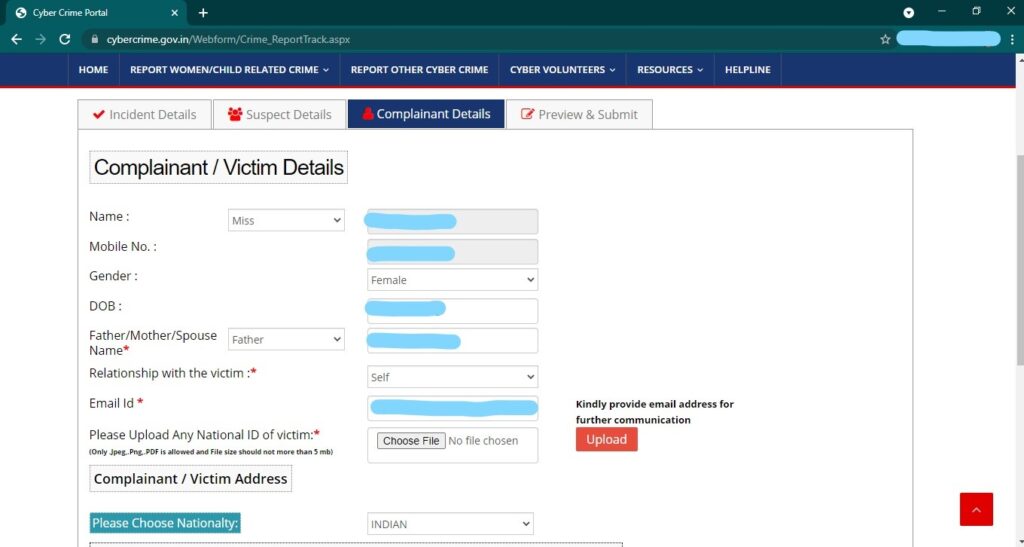 Next, click on 'preview & next'. If there is any information you wish to change, you can click on 'back' and edit the details. If not, answer the queries, select 'I agree', and finally click on 'Confirm and submit'. Make sure you note down the Complaint ID for the future references. Progress of the reported complaint will be notified on the registered mobile number and email address.
Step 6: To track the status of your complaint, you can also log in with your user name and mobile number later. Enter the OTP received and solve the arithmetic sum. Click on 'submit' and the screen will pop up with updates on your complaint. 
Reporting other Cybercrimes 
You can report crimes related to cybercrimes such as mobile crimes, online and social media crimes, online financial frauds, ransomware, hacking, cryptocurrency crimes, and online cyber trafficking using this option.
Step 1: Register yourself by entering the State where the incidence has occurred/ your state followed by your mail ID, and your Indian mobile number. Enter the OTP and solve an arithmetic sum post which you'll be registered. 
Step 2: Once registered, you can report the complaint by selecting the appropriate category and sub-category. Some of the crimes you can report are as follows: 
Online and Social Media related crimes 
Cyber Bullying/Stalking/Sexting 
Fake/Impersonating Profile  
Business Frauds/Email Takeover 
Debit/Credit Card Fraud/SIM Swap Fraud 
Internet Banking related Fraud 
Unauthorized Access/Data Breach
Website Related/Defacement 
Select the relevant category and sub-category from the drop-down menu shown below: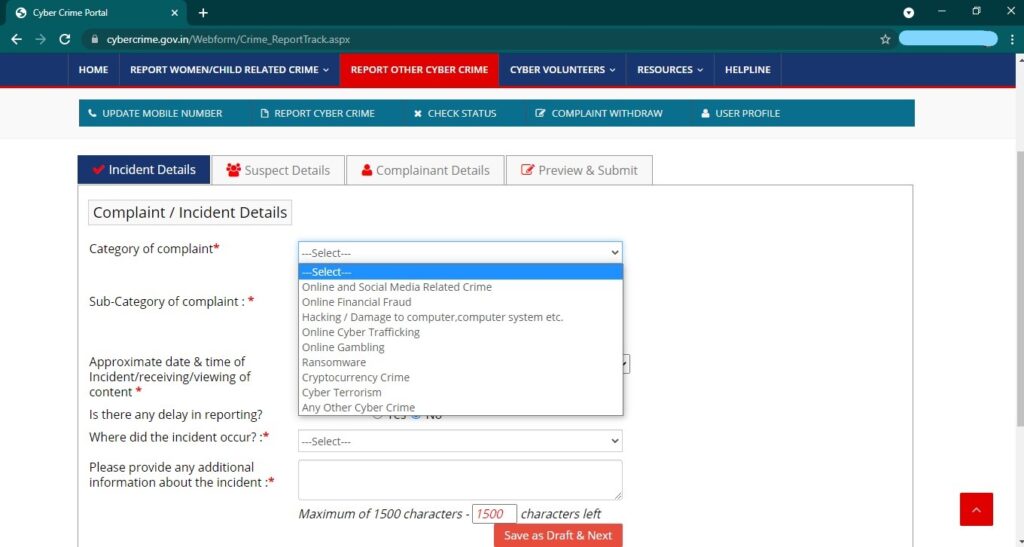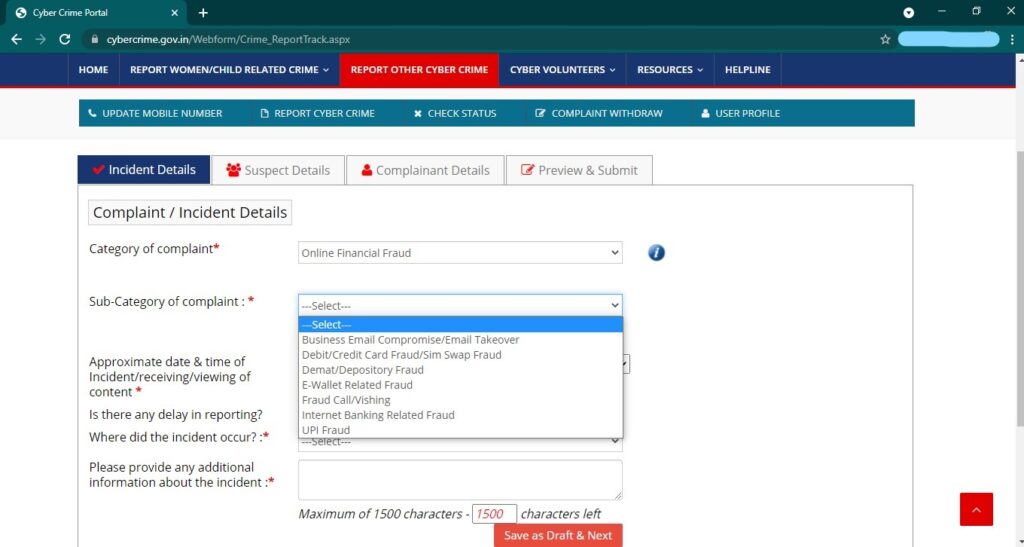 Step 3: After selecting the category of crime, you should provide additional information and documents which can count as proof of the crime. You can attach documents such as:
Credit card receipt/ bank statement/ online money transfer receipt/
Copy of email/ URL of webpage
Chat transcripts/ suspect mobile number screenshot
Videos/ images or any other related material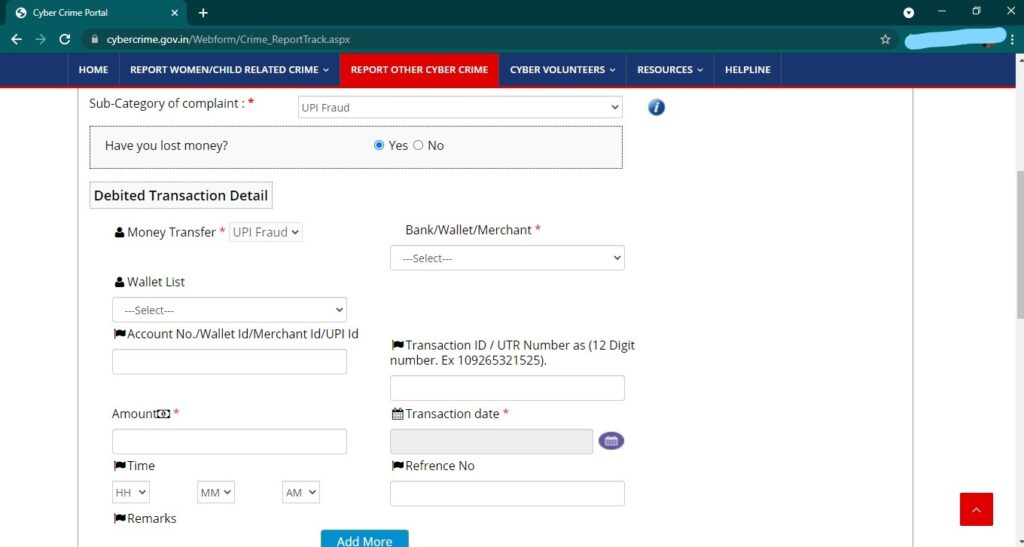 Step 4: Depending on the type of crime that you are reporting, the portal will ask for further details. For example, for cyber fraud, the portal will ask you to enter information regarding your bank account number/ transaction ID, amount, etc.
Once you enter the details, you can review the information you have provided. If you want to edit anything you can click on 'back' and edit. If not, click you should click on 'confirm and save'. You can also download a pdf copy of the complaint.  
The process of filing a cyber complaint is thus, easier than you think! However, one anomaly is that to register complaints any complaint other than cyber complaints relating to women/ children, you'll require an Indian mobile number to receive the One Time Password to log in. We hope this helps you in making the virtual space safe!
You should also read our guide on how to deal with cyber fraud.
---
Do subscribe to our Telegram channel for more resources and discussions on tech-law. To receive weekly updates, don't forget to subscribe to our Newsletter.