Hacking Group steals Apple's designs, demands $50 million ransom
In what can be termed as a case of double extortion, a hacking group is demanding $50 million ransom from Apple for its stolen data. The data was stored on Quanta's servers.
The Ransomware Group REvil have breached Quanta's servers and stole the Apple's confidential data. Quanta Computer is a Taiwanese corporation that is the world's largest laptop manufacturer. It assembles official Apple devices using pre-supplied product designs and schematics.
The Breach
The Ransomware group reached out to Apple after Quanta (the victim) declined to pay to for retrieving the stolen data. As a result, the REvil operators chose to go after the company's primary customer instead. The group released 21 screenshots of Macbook schematics, threatening to release new information every day till Apple or Quanta paid the ransom demand.
This message was shared on the group's "Happy Blog" portal on the dark Web.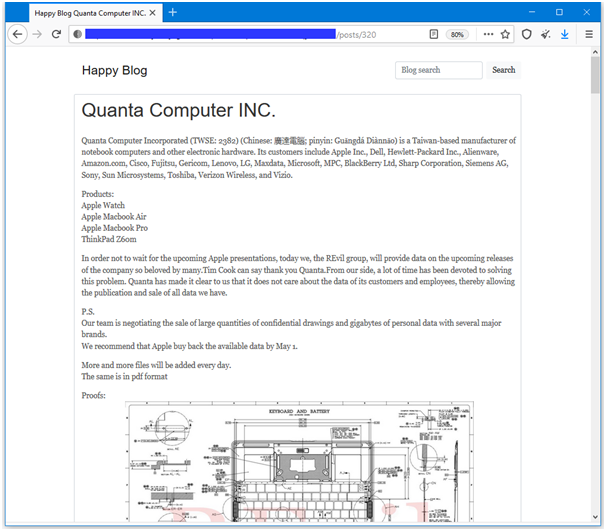 The Record reported the gang is also negotiating with other companies for the sale of confidential drawings and personal data. Some of Quanta's other noted customers include HP, Dell, Microsoft, and Lenovo.
The REvil Group
After its discovery in June 2019, REvil (also known as Sodinokibi or Sodin) has established itself as one of the most prolific ransomware-as-a-service (RaaS) groups. It is among the first to use the "double extortion" tactic. This has since been copied by other groups looking to increase their profit.
The tactic aims to persuade victims to pay up by releasing a small number of files taken from their extortion targets, before encrypting them and threatening to release more data until the victim meets the ransom demand.
The highly active ransomware gang recently attacked the Harris Federation Academy trust, which operates 48 schools across London. As a result, 37,000 students were unable to access their emails and coursework. Last month, Acer was also the target of a record-breaking $50 million ransomware attack.

Statement from Quanta
Without going into details, Quanta acknowledged the attack. The company stated that its cybersecurity team is working with external IT experts to respond to cyber-attacks. It further clarified that the attack has caused not a material impact on the company's operation. Quanta has reported to the appropriate data authorities and law enforcement authorities about the breach.  
---
Do subscribe to our Telegram channel for more resources and discussions on technology law and news. To receive weekly updates, don't forget to subscribe to our Newsletter.
You can also follow us on Instagram, Facebook, LinkedIn, and Twitter for frequent updates and news flashes about #technologylaw.