WhatsApp to encrypt chat backups stored on the cloud
In a new update, WhatsApp has announced to introduce multi-device usage without a phone and encrypt chat backups stored on the cloud. This update is in the testing phase at present. WhatsApp offers browser support; however, you must connect with a smartphone that is turned on and connected to the internet in order to use it. The platform has now published a new beta that adds multi-device compatibility without the requirement for a phone.
This is one of the most anticipated features, and the company's executives mentioned it being in development a few months ago. If you want to take a look at it, you can enroll yourself by following the company's instructions. You must have the most recent beta version of WhatsApp for Android or iOS to use this feature.
Details on the Beta Version
WhatsApp is experimenting with the ability to encrypt chat backups in the cloud separately. The Facebook-owned service stated that the system is enabled in its most recent Android beta update.
According to WhatsApp, it has created a new technology that ensures that communications sync across various devices while retaining end-to-end encryption. It goes on to say that each message is encrypted separately using the pairwise encryption session that has been established with each device. Messages are also not saved on the server once they have been delivered.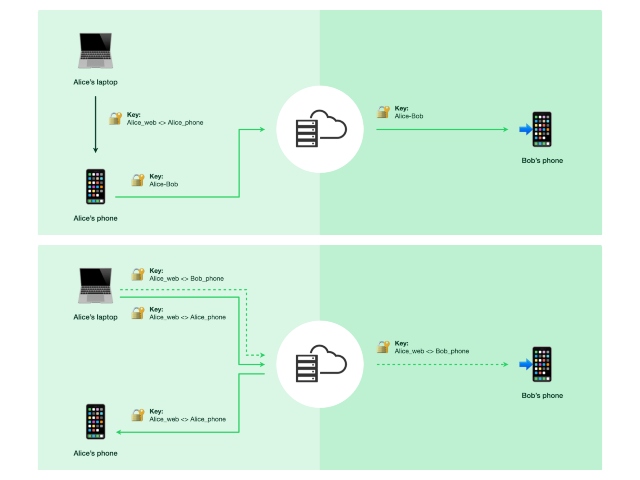 At present, the beta only allows for the operation of one companion device at a time. It means that a user cannot be on a WhatsApp call while checking messages on PC. The company's new WhatsApp multi-device design eliminates these barriers, as it no longer requires a smartphone to be the source for everything while still keeping user data synchronised and confidential.
According to The Verge, opting in for the beta build should keep conversation history and media safely backed up. The Beta proviso further caveats that a user will be locked away from the platform if he forgets the passcode or loses the 64-digit recovery key. This is because even WhatsApp will not be able to access them.
Users can install the beta version on their phones. However, WhatsApp published a list of features that are currently not working with the beta version of multi-device support.
The Debate on Ecryption
WhatsApp is already facing criticism from governments all over for its policies around encryption. The Indian government introduced the new intermediary rules which require WhatsApp to trace the originator of a message, which the company says is impossible without breaking end-to-end encryption on its service.
Up until now, investigating authorities have relied on backups to dig information for investigative purposes, but encrypting the backup could being a new problem to the table.
---
Do subscribe to our Telegram channel for more resources and discussions on tech-law. To receive weekly updates, don't forget to subscribe to our Newsletter.