Google is reminding users who they can track, here's how to switch it off
You have to go to a place where your friend is waiting for you. You want to reach there on time but do not know the exact location. You ask your friend to share his live location with you. This helps you to reach the destination efficiently. However, the locations sharing doesn't stop by itself, unless stopped manually. And that's not it, going a step further, Google is reminding users who they can track.
Recently, it was noted that a user can ask Google about the location of another user who had shared the location with the user earlier. This can cause an invasion into privacy if the user does not stop location sharing manually. These Google Maps alerts started appearing recently, and they show you who you can track, which is a little weird. It would have been preferable if Google Maps had simply reminded the person whose location was initially shared to turn it off.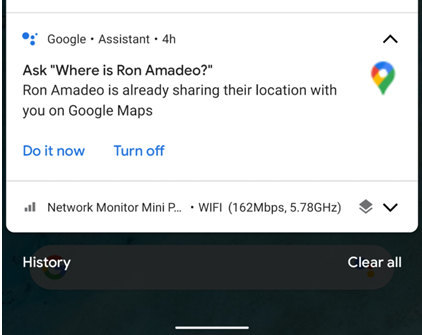 For people with whom the location was shared, you can now ask Google Assistant where people are, according to the notification.
"Hey Google, where is <insert name>?" will bring up a map snippet with that person's position, assuming they've enabled sharing. You can submit a request directly from Google Assistant if the person in question hasn't shared their position with you. 
This should serve as a reminder to update your settings to ensure that your location is only shared with those you trust, in addition to checking out the Assistant integration. 
How to stop sharing live location?
If you do not want to share your location with anyone, you can stop sharing location by following these stated instructions: 
Open google maps. 
Tap your profile picture or initial 
Tap the profile of the person you don't want to share your location with anymore 
Tap stop. 
You can find more details about live location sharing here. 
---
Do subscribe to our Telegram channel for more resources and discussions on tech-law. To receive weekly updates, and a massive monthly roundup, don't forget to subscribe to our Newsletter.
You can also follow us on Instagram, Facebook, LinkedIn, and Twitter for frequent updates and news flashes about #technologylaw.